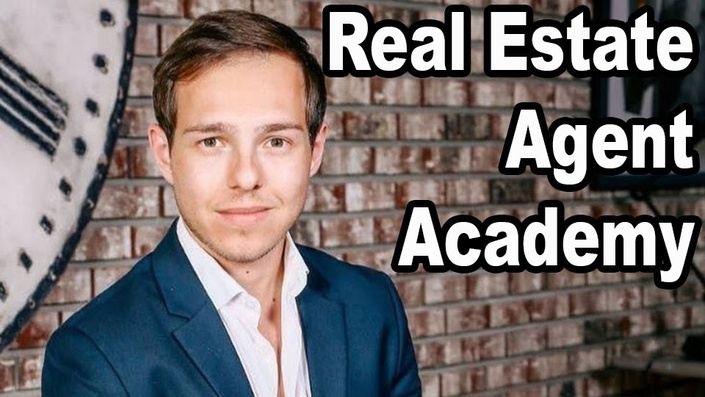 The Real Estate Agent Academy
Learn how to become a successful Real Estate Agent with a six-figure income, even if you're starting with zero connections or experience. Step by step.
In less than 10 years, I've gone from an 18-year old kid - fresh out of high school - with ZERO college degree - ZERO connections - and ZERO real estate experience - and became a millionaire by the age of 26, with over $120,000,000 in sales as a Real Estate Agent by the age of 27.
In this course, I'll detail how I've done this STEP BY STEP, and how you can begin to replicate what's worked well for me - whether you're a brand new agent or a current real estate agent looking to expand your career, this will outline everything that I've spent years learning, and what's led to over $22,000,000 in sales in 2017 alone - while still having the freedom to travel, take time off, and live life to the fullest.
You'll learn:
1. Why the #1 Happiest Job in America is working as a Real Estate Agent (Forbes)
2. How to find and interview the best brokerage to work with
3. How you can find a mentor to help boost your success
4. How to get seller leads - even without any experience or contacts
5. How to get buyers leads - even if you're brand new to the business
6. How I make $100,000 per year posting ads on Craigslist
7. Going over the ideal listing presentation
8. Common seller and buyer objections you'll need to overcome - and what to say
9. How to build your business just by doing open houses
10. Nearly 100 other topics...
Real Estate has been the funnest career I've ever experienced, I've met the most amazing people from it, and it's allowed me to be my own boss, make my own hours, work with the clients I want to work with, and the freedom to run the business how I felt best. By doing so, I've also made a considerable amount of money in the process, while also catering to everything my clients want - because customer service is absolutely crucial.

If you're interested in considering a career in real estate, or currently work as a Real Estate Agent and want to expand what you're already doing, I believe this will be a great place to start and I'm laying it all out for you to see what's worked best for me and how I've built my entire business from the ground up.
Thanks so much!
Graham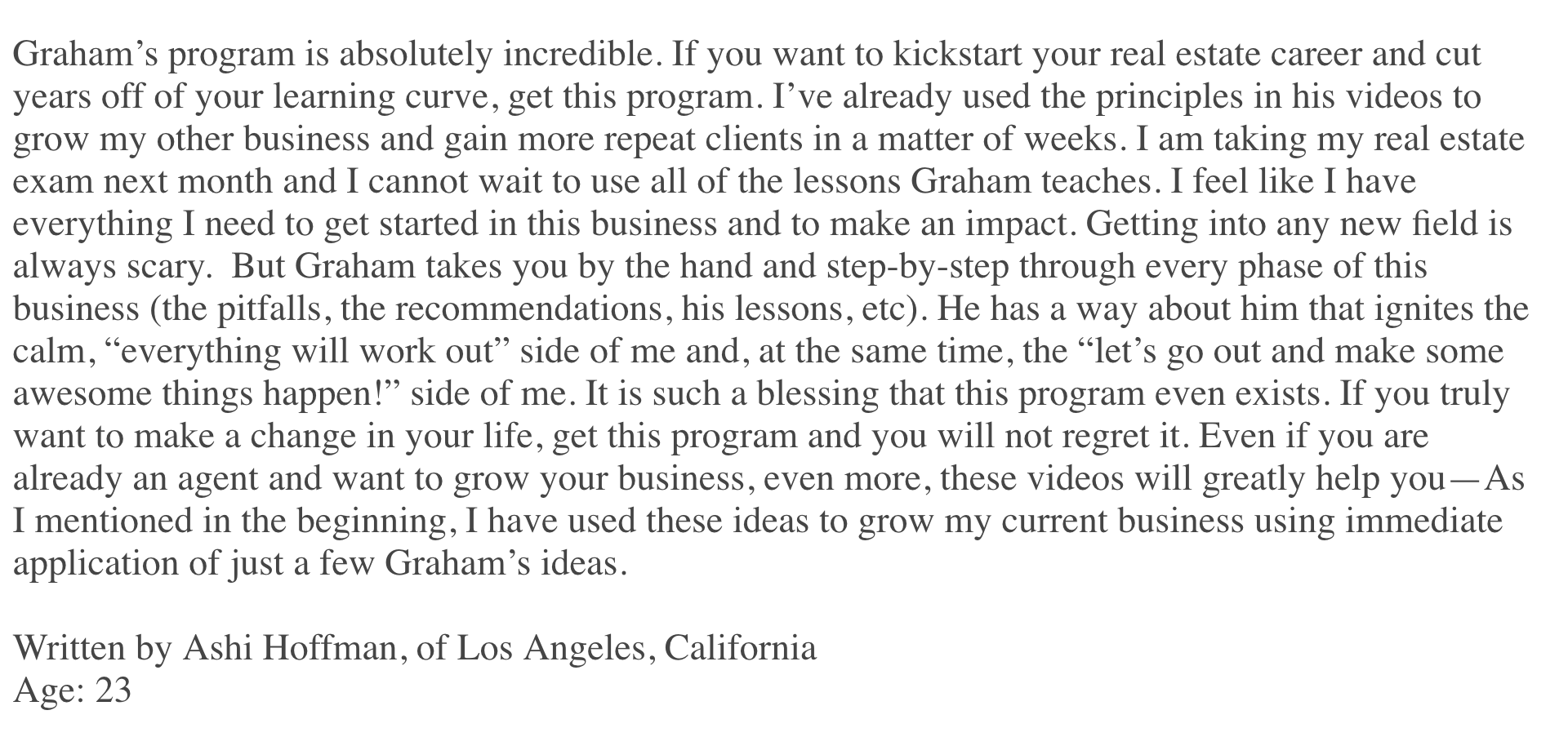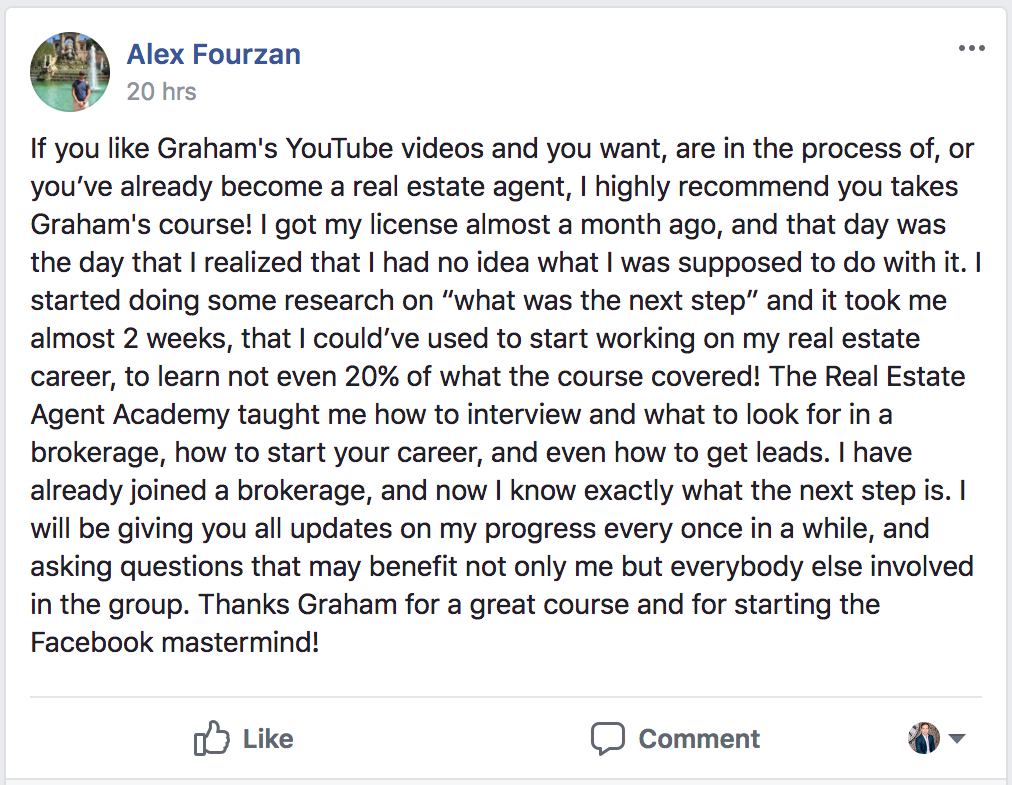 Refund policy: Refunds will be given to those who have viewed less than 50% of the course and have purchased the program in the last 25 days.
Dislcaimer: You may not sell, giveaway, allow the use of, trade or transfer your membership in this, or any of my courses/groups, to another person.
You recognize and agree that I have made no implications, warranties, promises, suggestions, projections, representations or guarantees whatsoever to you about future sales or results, or that you will earn any money and that I have not authorized any such projection, promise, or representation by others.
There is no assurance that any prior successes or past results will apply, nor can any prior successes be used, as an indication of your future success or results from any of the information, content, or strategies. Any and all claims or representations as to income or earnings are not to be considered as "average earnings". If you rely upon any figures provided, you must accept the entire risk of not doing as well as the information provided.Individual results will always vary and yours will depend entirely on your individual capacity, work ethic, business skills and experience, level of motivation, diligence in applying this information, the economy, the normal and unforeseen risks of doing business, and other factors.
This course is not affiliated any way with The Oppenheim Group Real Estate Brokerage and/or any of its associates and is owned and operated exclusively by Real Estate Network, LLC.

You must obtain advice on taxes from a tax professional. You must obtain local regulatory and state specific real estate information from a legal professional. You accept that I am not a tax or legal professional. You must consult a legal professional for advice on these topics.
Only the individual whose name is listed on the course, has the right to view the course videos, resources, Facebook group/s, and any and all material that is part of this course program. Anyone who shares, gives away or uses this information, to a person or site outside of the course, will be immediately removed from the course, and all of it's related groups, without a refund.

I reserve the right to remove anyone from this course, and all of it's related groups, without a refund, for any behavior that I deem to be inappropriate, harmful or detrimental, to myself or any student in this course, without a warning.
Your Instructor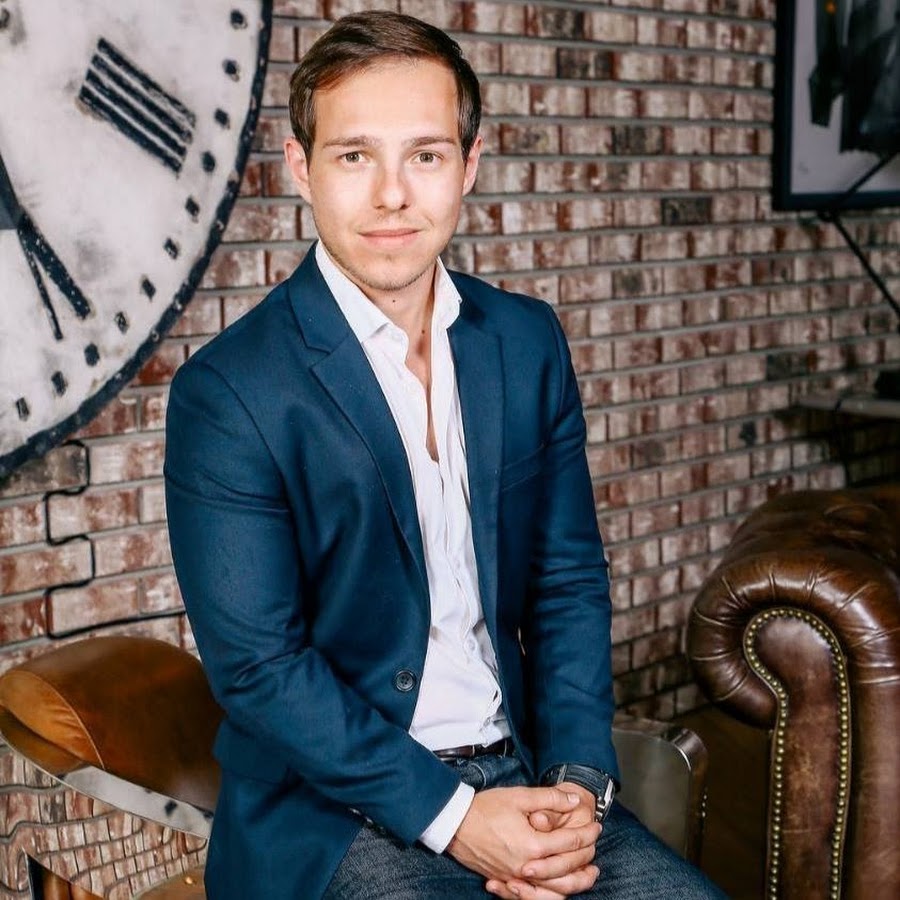 I began selling real estate as an agent in 2008 after graduating high school. Since then, I have done over $120,000,000 in sales and continue to increase my sales volume year after year - in 2017, I sold just about $22,000,000 in Real Estate, almost exclusively from word-of-mouth and repeat business. I came from zero family connections, no one worked in real estate, I had no idea what I was doing, but I dove in headfirst after not getting into college due to poor grades. It turned out to be one of the most enjoyable careers I could've ever imagined and after selling my first home of $3,500,000 from a client I met at an open house, I was hooked. Since then, I've continued building up my business and using that income to buy and renovate properties that I then rent out. As of now, I own 6 rental properties that I manage in my spare time, as well as run a YouTube Channel where I share my thoughts on real estate, motivation, building wealth, and anything else that seems interesting at the time!